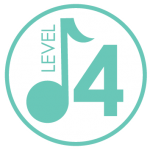 Moove + Groove
Young Children 3-4 years
Welcome to Kindermusik, Level 3
 Build a strong foundation for math, reading and writing!
Move & Grove classes offer children exciting first experiences with musical symbols and more complex instruments, laying the groundwork for formal music instruction. You'll join the fun for the final activities and watch as your child begins to master music terms and concepts, building a strong foundation for learning in other subjects like math, reading, and writing. 
With a wide range of learning opportunities within these classes, your pre-schooler will:
Skills and Benefits for your young child:
Enhanced self-awareness
Refined listening skills
Heightened sense of creativity
Development of sensory, motor, and cognitive skills
Increasing pitch accuracy, memory recall, and sequencing abilities
Ability to cooperate within a group, exhibit self-control, and listen attentively
Stronger foundation for language and literacy skills, such as phonological awareness, focused attention, effective communication, and vocabulary
Strengthened brain connections used to integrate new learning, make decisions, and think critically
Activities your young child will enjoy in class:
Listening to a variety of sounds, including music from individual instruments and complete compositions that highlight specific genres, cultures, composers, or concepts and sharing their listening observations
More complicated instrument-play, such as dances that include instrument play, back-and-forth rhythm conversations with instruments, and songs with accompanying instrument patterns
Experiencing various types of movement, including creative movement, movement with a partner, group, instruments, or props, and movement that explores concepts like high/low or staccato/legato
Singing a variety of songs in an appropriate range and engaging in call-and-response, echoing, and instrument play
Pretend play through music, vocal development, storytelling, listening, and movement
Introduction to music concepts and vocabulary
Let it begin with Kindermusik! Level 4 - Move & Groove!
Every Kindermusik class is a unique opportunity to play, nurture and bond with your young child
Here is what one of our families had to say!
I cannot recommend Eunice's Kindermusik program enough. My little girl has gained more from the program than the love of music, confidence, delight and fun that was obvious from very early in her attending. Eunice has real interest in each child, a wealth of experience to share, and has given the program her very special personal stamp which has opened space in my daughter's later life in school. And even though she completed the program some time ago, my daughter shows the very distinct sense of delight in music and glow of confidence in her classroom, that has blossomed from attending Kindermusik with Eunice in her early life. What a gift to give any child beginning to take their new place in the world. I'm glad we bumped into you, Eunice!
Did you know that music and movement
can enhance your child's cognitive development?
What your investment in Kindermusik Classes gives you!​
$
79
per month plus $35 annual registration fee
You and your little one will be educated by our beautiful Kindermusik Maestro.

You will receive a set of gorgeous At Home Materials each month.

Specifically designed classes for the developmental needs of your child. 

Over 200 activities to do at home.

A special gift from our heart to yours upon enrolment.
Enrolment is quick and easy.
Select a time that suits your schedule and a payment option that most suits your needs.
Click on the button below to send us an email and we will be in touch to answer any questions you may have!