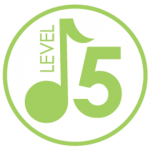 Kindermusik for the Young Child!
Prep - 7 years
Welcome to Kindermusik, Level 5
Help build your young child's readiness for school
Our most advanced classes offer children the opportunity to use music notation to play a variety of instruments. As children grow musically throughout Kindermusik for the Young Child, they develop strong social-emotional, problem-solving, and pre-literacy skills that help boost school readiness and encourage a natural love of learning.  
With a wide range of learning opportunities within these classes, your young child will:
Skills and Benefits for your young child:
Ability to read traditional and non-traditional music notation
Growing ability to extend what has been learned in one context to a new context
Awareness of steady beat, meter, and rhythm, essential musicianship skills with ties to physical development and coordination
Development of self-confidence, musicianship, collaboration, and creativity through teamwork, peer interaction, and communication
Ability to distinguish specific sounds within words and increased awareness of the rhythmic structure of language and developing speaking, reading, and listening skills
Understanding of music reading, beat competence, expressive movement, singing, instrument playing, and ensemble participation, skills that are beneficial in fields of study that involve problem-solving, creativity, coordination, persistence, fine-motor capabilities, and team participation
Activities your young child will enjoy in class:
Learning how to understand simple music notation and play the glockenspiel, dulcimer, and the recorder
Experiencing steady beat, meter, and rhythm through listening to music, moving, singing, playing instruments, and reading and writing music notation
Learning new music concepts through listening, moving, singing, game-playing, visuals, and imaginative play
Listening to music and sound with an analytical ear and paying close attention to pitch variation and timbre between specific instruments
Developing their speaking and singing voices through listening, imitating, and exploring
Participating in a variety of ensemble experiences, including instrumental ensembles, vocal ensembles, and group dancing
Let it begin with Kindermusik! For the Young Child (Prep - 7 years)
Every Kindermusik class is a unique opportunity to play, nurture and bond with your young child
Here is what one of our families had to say!
As a mum I have been attending Kindermusik for 7 years with my children from the age of 4 months, my daughter is now 7 years, my son is nearly 6 and my youngest son is 2 years old. I have watched over the years with my two older children the pure delight on their faces when it's time for Kindermusik.


I have seen them gain self confidence within themselves, music recognition, social skills, language and the joys of learning new songs and dances.


The take home learning material is great as you can listen to the CD with the songs on it at home or in the car, which I have found can settle a crying child, you also get books to read, for the babies you have pictures posters to look at or stick up on the wall and an age appropriate musical instrument so you can continue with the learning experience at home.
Eunice is a wonderful teacher and the children absolutely love her. The classes are in a fun and relaxed environment for all ages with adults having just as much fun as the children. I would recommend Kindermusik at BTR to any one.
How can Kindermusik enhance
your child's inherent musical
potential?
What your investment in Kindermusik Classes gives you!​
$
79
per month plus $35 annual registration fee
You and your little one will be educated by our beautiful Kindermusik Maestro.

You will receive a set of gorgeous At Home Materials each month.

Specifically designed classes for the developmental needs of your child. 

Over 200 activities to do at home.

A special gift from our heart to yours upon enrolment.
Enrolment is quick and easy.
Select a time that suits your schedule and a payment option that most suits your needs.
Click on the button below to send us an email and we will be in touch to answer any questions you may have!