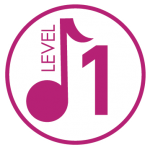 Sing + Play
Parents and Babies 1-2 years
Welcome to Kindermusik, Level 1
Sing & Play classes offer your young toddler a stimulating environment to explore their new movement and language skills with a sense of security, comfort, and confidence. As your child thrives in a music and movement-driven environment, you'll have the opportunity to connect with other parents and caregivers and learn to use music to create and simplify routines at home. 
With a wide range of learning opportunities within these classes, your baby will boost their development for:
Activities you and your baby will enjoy in class:
Discovery and play with scarves, hoops, mirrors, and more
Instrument play and introduction to basic music concepts such as high/low, fast/slow, and holding a steady beat
Singing songs that include motions, repeated words, and different meters and modes
Skills and Benefits Kindermusik for your baby:
Heightened body awareness and beginning competence in self-regulation of movement
Development of various basic gross-motor skills, fine-motor control, and coordination
Growing ability to recognise and follow patterns in music and move to a steady beat, fundamental skills that have been linked to math and language
Let it begin with Kindermusik Level 1 - Sing & Play!
Every Kindermusik class is a unique opportunity to play,
nurture and bond with your baby.
Here is what one of our families had to say!
We first attended BTR in the Kindermusik Program of 2006 when my first child was a few months old and continued through to Young Child. This was an amazing foundation for my daughters music studies at school and her ability to read music, pick up an instrument and play it confidently. I have continued attending BTR with my other three children with the same results. All the teachers are caring, passionate, encouraging and guide the children to share in their love of music. I highly recommend BTR for all ages.
What do music and math
have to do with one another?

Watch this video to find out!
What your investment in Kindermusik Classes gives you!​
$
79
per month plus $35 annual registration fee
You and your little one will be educated by our beautiful Kindermusik Maestro.

You will receive a set of gorgeous At Home Materials each month.

Specifically designed classes for the developmental needs of your child. 

Over 200 activities to do at home.

A special gift from our heart to yours upon enrolment.
Enrolment is quick and easy.
Select a time that suits your schedule and a payment option that most suits your needs.
Click on the button below to send us an email and we will be in touch to answer any questions you may have!