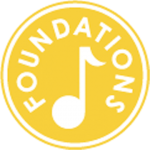 Cuddle + Bounce
Parents and Babies Newborn to 1 Year
Welcome to Kindermusik, Foundations
Our Cuddle & Bounce classes offer a sensory-rich yet caring and gentle environment where infants and young toddlers can explore and react to new sounds, sensations, objects and movements.
Activities you and your baby will enjoy in class:
Listening to and experiencing songs and rhymes
Back-and-forth vocal plays and other parent-child interactions that build neural pathways in a baby's developing brain
Exploring baby-safe instruments and other object play
Baby-caregiver bonding exercises, including story time, massage, and relaxation activities
Skills and Benefits Kindermusik for your baby:
Ability to embrace both familiar and unfamiliar social experiences

Development of listening and back-and-forth communication skills
Introduction to a variety of spoken sounds and rhythms that will support language and literacy development
Increased balance and control over movements and strengthened core muscles
Let it begin with Kindermusik! Foundations - Cuddle & Bounce!
Every Kindermusik class is a unique opportunity to play, nurture and bond with your baby.
Here is what one of our families had to say!
My son and I have just started attending the Monday music class and we both absolutely love it. It's a great class to meet some other mums while also teaching your little one about music and movement. My son is still quite young but I can see him growing and taking in more and more with each class. Classes are really interesting and the whole set-up is very professional. Best of all I feel very comfortable in the classes with my sons young age.
Did you know that Kindermusik Classes are a natural delivery system for language and can expand pre-reading skills?
What your investment in Kindermusik Classes gives you!​
$
79
per month plus $35 annual registration fee
You and your little one will be educated by our beautiful Kindermusik Maestro.

You will receive a set of gorgeous At Home Materials each month.

Specifically designed classes for the developmental needs of your child. 

Over 200 activities to do at home.

A special gift from our heart to yours upon enrolment.
Enrolment is quick and easy.
Select a time that suits your schedule and a payment option that most suits your needs.
Click on the button below to send us an email and we will be in touch to answer any questions you may have!